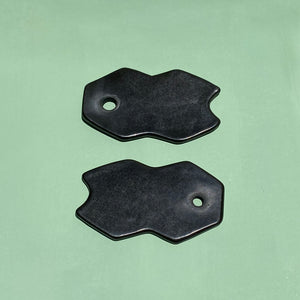 Handmade in Santa Barbara, Ca by Dresden. These ceramic gua sha tools are made of porcelain to create a functional facial rejuvenation tool as well as a stunning piece of art. Pair them with a ceramic gua sha stand to complete your countertop decor. 
Ceramic gua sha tools are uniquely yours as the clay helps to draw out impurities and cleanse the energy. 
We are exploring using porcelain and other clay bodies for our gua sha tools as it is a renewable resource. Handmade here in California we know the maker and how it was made. This attention and intention produces a product you can feel your best about. 
These tools are porcelain glazed in a matte black.
Each tool measures roughly 4.5"x2" and individual colors and marking may vary. While we use a high degree of quality control, at times the high fire of the kiln can cause porcelain to warp slightly. 
Comes with a protective cotton pouch.